durch:formen – per:form
Performancedays at Guenther Domenig's Steinhaus, Lake Ossiach
performance – residence – symposium – workshop
In accordance with the intended function of the house as a workshop, which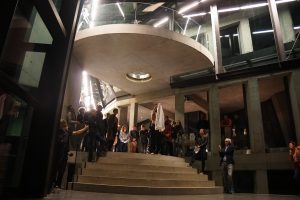 can also be used as a place to live in, we would like to revive this idea and allow artists to again explore this unique building. The subject areas are defined by the range of participating artists and their performances. Performance Art developed out of happenings and events at museums. They describe the human body as a research topic, which expresses itself as it interacts with the location, the people present and the resulting relationships.
At the beginning a film made by the initiators of the project be will give a better understanding of the methods of operation and the location:
https://www.youtube.com/watch?v=GnrXSXzz-aY&feature=youtu.be
Also in 2019 the Steinhaus will be "performed" by artists and theorists. The different places, rooms and spaces of the Steinhaus, which interlock like open cells, are made available to the artists coming from various artistic
background (music, fine arts, media art, literature, theater, dance and architecture) who are specialized in Performance Art. They will be invited to work individually and in correspondence with the architecture in a one week residency in autumn 2019.
After this researchprocess the development of innovative performances during a symposium called the "Steinhausherbst" will be made possible (as well as workshops, get-togethers, and lectures) since the audience will also be able to utilize the events interactively: For them these days will be open to participate in this process with various possibilities of gettogether. On the first day of the symposium they`ll get an impression of what this days are about:
The questions the artists will pose will be presented in lectures or lecture performances at the beginning of the symposium aswell as a lecturers of cultural studies and art will also be invited to the symposium to explain the term "Performance" and elaborate on it. Then the audience is invited during the week to participate in workshops, in common evening celebrations and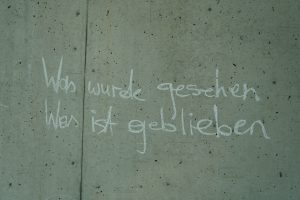 finally in the performanceshow, where the artists present their
researchprocess or performance works on the last day.
Like the preceding models of Robert Wilson and his Watermillcenter will be
created by this interaction, in which the artists will be able to let the place have an effect on them, which will hence enable them to "perform" the location.
In 2015 our first residency was realized in cooperation with center for choreography bleiburg (http://www.ccb-tanz.at), aswell as workshops, lectures for students of the university Klagenfurt and an openhouse evening.
See a trailer of the event: https://youtu.be/TmIWu6jC03Y
In 2018  we realized four residencies. Therefore co-operations already exist with the House of Architecture Carinthia (Architektur Haus Kärnten (https://architektur-kaernten.at/medien), the Festival Spectrum (http://www.festivalspectrum.com) and the University of Klagenfurt (http://www.unikum.ac.at) . Apart from that it is in planning to cooperate with the organizers of the venice performance art week (http://www.veniceperformanceart.org)
https://www.facebook.com/durchformen/
Gefördert durch:
Projektpartner: